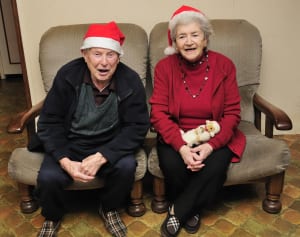 The Holidays are a good time to check in with elderly family members, especially those who live alone. All loved ones age differently. We want to make sure they are healthy and safe.
Here are quick tips on how to gently check in with your loved ones to determine whether they need to make life changes or require assistance.
Look for physical changes. Is there an extreme weight gain or weight loss? How is their general hygiene?
Check the refrigerator. It is well stocked with fresh, healthy food? Do they have an appetite?
Pay attention to how your loved one moves. How is their strength and balance? If they are unsteady on their feet, they may be at risk of falling.
Ask them about their social life. Are they still doing the things they love? Are they reluctant to leave the house?
Check out their medications. Are expired pill bottles mixed in with current ones? Are pills organized to prevent taking the wrong ones?
Check their bills. Do you see bills that are overdue? Do you notice large withdrawals from their bank account? Is there unopened mail piled up? These can be signs of memory issues.
If you notice indications your loved one needs assistance, ease into a conversation with them.
Remind your elderly loved ones how grateful you are that they are part of your celebration. Look through old photo albums and have them tell stories from holidays past. Most importantly, eat mashed potatoes. Because mashed potatoes are delicious.
For information about SafeHarbor  call: 718-979-6900.
The American Heart Association states that stroke is the No. 4 cause of death and a leading cause of disability in the United States.
Working with a primarily senior population, the health care team at the 45 year old Staten Island-based, healthcare agency, SafeHarbor HealthCare Services works with many patients who are in need of assistance due to having survived a stroke.
"It is a frustrating and painful process to watch your loved one work their way to a more independent way of life and in some cases the severity of the stroke may never allow for a full recovery" stated Mary Brady RN, Supervising nurse at SafeHarbor."While our trained healthcare providers are knowledgeable, we also encourage family members living with or occasionally caring for the loved one to know t he possible risk factors and the warning signs."
Risk factors for many include:
having already had a stroke
having Transient ischemic attacks (TIAs), a warning stroke that caused no lasting damage
having had a heart attack
There are other contributors, but for the caregiver, or person living with someone who has risk factors, it is also important to know the signs of a stroke.  The American Heart Association has an easy way to remember sudden signs called F.A.S.T.
 F.A.S.T. is:
F- Face Drooping – Does one side of the face droop or is it numb? Ask the person to smile.  Is the person's smile uneven?
A -Arm Weakness – Is one arm weak or numb? Ask the person to raise both arms. Does one arm drift downward?
S-Speech Difficulty – Is speech slurred? Is the person unable to speak or hard to understand? Ask the person to repeat a simple sentence, like "The sky is blue." Is the sentence repeated correctly?
T- Time to call 9-1-1 – If someone shows any of these symptoms, even if the symptoms go away, call 9-1-1 and get the person to the hospital immediately. Check the time so you'll know when the first symptoms appeared.
The National Stroke Association cites that one in six strokes is caused by a heart condition called atrial fibrillation (Afib), a condition where the heart beats abnormally resulting in the formation of blood clots.  Medical science has shown that having Afib increases the risk of stroke by 500 percent.
"Recent  studies have concluded that more strokes are attributed to Afib even though a short hospital visit does not indicate its presence.  Patients and their loved ones should relate any known risk factors or behaviors to the treating physician to rule out a heart problem as the cause of a stroke.  Caring for a patient and being knowledgeable and in tune with their risk factors and the latest medical science data on this issue is key to quality care", added Ms. Brady.
For information about SafeHarbor  call: 718-979-6900.
Responses provided by: Mary Krause Brady RN, Supervising nurse at SafeHarbor HealthCare Services, a family operated, 45 year old Staten Island-based Joint Commission Accredited agency.
What are indicators that you should look for to determine whether your loved one can maintain an independent lifestyle?
When determining if your loved one can safely live independently, there are a few indicators to look for aside from the obvious ones like frequent falls or not recognizing people who are regularly in their lives. Check to see if medications are being taken regularly by discreetly counting them when you are visiting; see if the food in the refrigerator is fresh and being consumed. Is the person having difficulty bathing, keeping clothes clean and not keeping up with personal hygiene? Are they having difficulty with paying bills on time?
After making the assessment do you have a conversation with loved one first or an agency?
Only the one making the assessment will know how their loved one will react to having another person in their home taking care of them. Many may feel their independence is threatened and will not be receptive to the idea at all. Of course the optimum solution, if at all possible, is to have a loving family member or members alternate care. If financial resources are available, suggesting that a non-relative be hired to do some cleaning or shopping once or twice a week may alleviate their anxiety about the situation. This may help to make the loved one more comfortable to having someone in the home; if appropriate the aide could then assist with activities of daily living, i.e. personal hygiene, preparing meals, etc.
Does an agency offer intervention to assist with THE conversation?
If an agency must be utilized, most will aid the family in helping the loved one understand the need for some assistance. The usual procedure is that a supervisory Registered Nurse from the home care agency makes the initial visit to access the situation and put the consumer and family's minds at ease. Once an agency is selected, typically they will assign a Home Health Aide to the case, if that is the level of care required. The family will meet the Aide when they start working. Of course, we usually try to fill the position with someone who will be compatible to the loved one's personality and likes. If the loved one is not comfortable with the person we send, someone else is assigned until their needs are met.
Once the decision to use a Home Health Aide service is made what are next steps for family?
The agency should help the patient and family feel secure.  It is often requested that a family member not stay the first day but return unexpectedly to see how well the consumer and aide relationship is going. I always suggest that, if possible, the family visit often and unannounced.
No matter who you have working in the home, and even though they are bonded and screened, it is always a good idea to put valuables away and not leave opportunities for any misunderstanding. Install a listening or video device that gives the family some level of comfort. You can decide whether or not to tell the home health agency that it is installed.
Once the type and level of services are needed and determined how do you "shop" for one? How do you compare? What resources are available to fully investigate the options?
Start by researching agencies in your area. Question how long they have been in business and most importantly, how are their employees screened?  Are criminal and background checks done on a regular basis? Other sources for references would be your physician and friends who have had similar services. The family should feel free to interview each agency, and ask for references from others who have used their services.
Once you've settled on a service how do you stay involved in the loved ones care? How do you monitor?
Does the agency keep in touch with the family and reassess the client? How often? The family should be assured that the service agency is available 24/7 and that calls will be returned within a reasonable time. Be vigilant by stopping by frequently unannounced, especially if your loved one is incapable of letting you know if there is a problem.
What should an agency provide to loved ones in terms of reporting?
Someone from the service agency should call once a week and a Registered Nurse should visit on bi-monthly basis at a minimum. There should be a receptive voice from the agency for any concerns or questions and you should be confident that messages will be relayed to the Nursing Supervisor.
Personal Emergency Response Systems (PERS) have been increasing during the last few years because of the rising age of the elderly. Approximately over 13 million seniors fall every year with over half not able to get up on their own. Due to the rising number of older people in their own homes, these response systems play a major part in saving lives. By demand, Safe Harbor has come up with important information about (PERS) for the elderly and your loved one.
Personal Emergency Response Systems, also known as Medical Emergency Response Systems, let you call for help in an emergency by pushing a single button. A PERS contains three mechanisms: a small radio transmitter, a console connected to your telephone and an emergency response center that monitors calls.
Transmitters are usually light in weight, and are battery powered devices. You can wear one around your neck, on a wrist band, on a belt, or in your pocket. When an emergency has occurred, you just press the transmitters help button, which will send a signal to the console. The console automatically calls one or more emergency telephone numbers. Today most PERS are programmed to telephone an emergency response center. The center will try to figure out the nature of your emergency. They will also review your medical history and check which family member will be notified.
When it comes to buying a PERS, you can purchase, rent or lease a device. Remember, that Medicare, Medicaid, and most insurance companies normally don't pay for the equipment, and few require a doctor's recommendation. Most hospitals and social service agencies might fund the device for low-income users. If you purchase a PERS, expect to pay an installation fee and a monthly monitoring charge. Rentals are accessible through national manufacturers, local distributors, hospitals, and other social service agencies and fees often include the monitoring service.
For a list of systems available in your area, contact your local agency on aging. Once you have found a list of agencies you're considering, check with your local consumer protection agency, state Attorney General, and Better Business Bureau to see if any complaints have been filed against them.
For more information about PERS contact us at 718-979-6900 and we will gladly assist you in answering any questions you have.
When you need to find the right Health Care Provider it's important to know what your options are. Safe Harbor Healthcare Services offers the resources to help you make the right decision. When it comes to finding care, quality and cost matter most. We offer some resources to help families make informed senior care decisions. One of the resources we recommend is CareScout.com
This site can help families find care for a loved one. You can also find proper long term care insurance. It even offers ratings on:
Quality of care
Trends
Resident Profiles
Bed Availability
We recommend you visit the site above or contact us for a consultation.