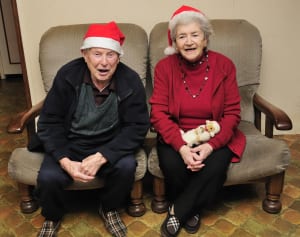 The Holidays are a good time to check in with elderly family members, especially those who live alone. All loved ones age differently. We want to make sure they are healthy and safe.
Here are quick tips on how to gently check in with your loved ones to determine whether they need to make life changes or require assistance.
Look for physical changes. Is there an extreme weight gain or weight loss? How is their general hygiene?
Check the refrigerator. It is well stocked with fresh, healthy food? Do they have an appetite?
Pay attention to how your loved one moves. How is their strength and balance? If they are unsteady on their feet, they may be at risk of falling.
Ask them about their social life. Are they still doing the things they love? Are they reluctant to leave the house?
Check out their medications. Are expired pill bottles mixed in with current ones? Are pills organized to prevent taking the wrong ones?
Check their bills. Do you see bills that are overdue? Do you notice large withdrawals from their bank account? Is there unopened mail piled up? These can be signs of memory issues.
If you notice indications your loved one needs assistance, ease into a conversation with them.
Remind your elderly loved ones how grateful you are that they are part of your celebration. Look through old photo albums and have them tell stories from holidays past. Most importantly, eat mashed potatoes. Because mashed potatoes are delicious.
For information about SafeHarbor  call: 718-979-6900.
The American Heart Association states that stroke is the No. 4 cause of death and a leading cause of disability in the United States.
Working with a primarily senior population, the health care team at the 45 year old Staten Island-based, healthcare agency, SafeHarbor HealthCare Services works with many patients who are in need of assistance due to having survived a stroke.
"It is a frustrating and painful process to watch your loved one work their way to a more independent way of life and in some cases the severity of the stroke may never allow for a full recovery" stated Mary Brady RN, Supervising nurse at SafeHarbor."While our trained healthcare providers are knowledgeable, we also encourage family members living with or occasionally caring for the loved one to know t he possible risk factors and the warning signs."
Risk factors for many include:
having already had a stroke
having Transient ischemic attacks (TIAs), a warning stroke that caused no lasting damage
having had a heart attack
There are other contributors, but for the caregiver, or person living with someone who has risk factors, it is also important to know the signs of a stroke.  The American Heart Association has an easy way to remember sudden signs called F.A.S.T.
 F.A.S.T. is:
F- Face Drooping – Does one side of the face droop or is it numb? Ask the person to smile.  Is the person's smile uneven?
A -Arm Weakness – Is one arm weak or numb? Ask the person to raise both arms. Does one arm drift downward?
S-Speech Difficulty – Is speech slurred? Is the person unable to speak or hard to understand? Ask the person to repeat a simple sentence, like "The sky is blue." Is the sentence repeated correctly?
T- Time to call 9-1-1 – If someone shows any of these symptoms, even if the symptoms go away, call 9-1-1 and get the person to the hospital immediately. Check the time so you'll know when the first symptoms appeared.
The National Stroke Association cites that one in six strokes is caused by a heart condition called atrial fibrillation (Afib), a condition where the heart beats abnormally resulting in the formation of blood clots.  Medical science has shown that having Afib increases the risk of stroke by 500 percent.
"Recent  studies have concluded that more strokes are attributed to Afib even though a short hospital visit does not indicate its presence.  Patients and their loved ones should relate any known risk factors or behaviors to the treating physician to rule out a heart problem as the cause of a stroke.  Caring for a patient and being knowledgeable and in tune with their risk factors and the latest medical science data on this issue is key to quality care", added Ms. Brady.
For information about SafeHarbor  call: 718-979-6900.
Responses provided by: Mary Krause Brady RN, Supervising nurse at SafeHarbor HealthCare Services, a family operated, 45 year old Staten Island-based Joint Commission Accredited agency.
What are indicators that you should look for to determine whether your loved one can maintain an independent lifestyle?
When determining if your loved one can safely live independently, there are a few indicators to look for aside from the obvious ones like frequent falls or not recognizing people who are regularly in their lives. Check to see if medications are being taken regularly by discreetly counting them when you are visiting; see if the food in the refrigerator is fresh and being consumed. Is the person having difficulty bathing, keeping clothes clean and not keeping up with personal hygiene? Are they having difficulty with paying bills on time?
After making the assessment do you have a conversation with loved one first or an agency?
Only the one making the assessment will know how their loved one will react to having another person in their home taking care of them. Many may feel their independence is threatened and will not be receptive to the idea at all. Of course the optimum solution, if at all possible, is to have a loving family member or members alternate care. If financial resources are available, suggesting that a non-relative be hired to do some cleaning or shopping once or twice a week may alleviate their anxiety about the situation. This may help to make the loved one more comfortable to having someone in the home; if appropriate the aide could then assist with activities of daily living, i.e. personal hygiene, preparing meals, etc.
Does an agency offer intervention to assist with THE conversation?
If an agency must be utilized, most will aid the family in helping the loved one understand the need for some assistance. The usual procedure is that a supervisory Registered Nurse from the home care agency makes the initial visit to access the situation and put the consumer and family's minds at ease. Once an agency is selected, typically they will assign a Home Health Aide to the case, if that is the level of care required. The family will meet the Aide when they start working. Of course, we usually try to fill the position with someone who will be compatible to the loved one's personality and likes. If the loved one is not comfortable with the person we send, someone else is assigned until their needs are met.
Once the decision to use a Home Health Aide service is made what are next steps for family?
The agency should help the patient and family feel secure.  It is often requested that a family member not stay the first day but return unexpectedly to see how well the consumer and aide relationship is going. I always suggest that, if possible, the family visit often and unannounced.
No matter who you have working in the home, and even though they are bonded and screened, it is always a good idea to put valuables away and not leave opportunities for any misunderstanding. Install a listening or video device that gives the family some level of comfort. You can decide whether or not to tell the home health agency that it is installed.
Once the type and level of services are needed and determined how do you "shop" for one? How do you compare? What resources are available to fully investigate the options?
Start by researching agencies in your area. Question how long they have been in business and most importantly, how are their employees screened?  Are criminal and background checks done on a regular basis? Other sources for references would be your physician and friends who have had similar services. The family should feel free to interview each agency, and ask for references from others who have used their services.
Once you've settled on a service how do you stay involved in the loved ones care? How do you monitor?
Does the agency keep in touch with the family and reassess the client? How often? The family should be assured that the service agency is available 24/7 and that calls will be returned within a reasonable time. Be vigilant by stopping by frequently unannounced, especially if your loved one is incapable of letting you know if there is a problem.
What should an agency provide to loved ones in terms of reporting?
Someone from the service agency should call once a week and a Registered Nurse should visit on bi-monthly basis at a minimum. There should be a receptive voice from the agency for any concerns or questions and you should be confident that messages will be relayed to the Nursing Supervisor.
"Urinary tract infections, as we know from our long time working with elderly, are a very common infection affecting the elderly. The difference is that in the elderly population the symptoms may manifest in ways that mimic other disorders or lead to diagnosis that doesn't address the primary issue, the UTI," said Mary Krause Brady RN, Supervising nurse at SafeHarbor HealthCare Services, a family operated, 45 year old Staten Island-based Joint Commission Accredited agency.
The elderly are susceptible due to a lack of hydration. Whether it be a patient with a form of dementia or just the ability or desire to have an adequate intake of fluids, the elderly can develop a UTI yet not experience the same symptoms as a younger individual. They may not have pain or fever but rather are confused or feeling excessively tired.
"We have found that working with the elderly that you can't look at their symptoms in the same way you would someone half their age," said Mrs. Brady.
According to the National Institutes of Health (NIH), elderly people are more vulnerable to UTIs for many reasons, not the least of which is their overall susceptibility to all infections due to the suppressed immune system that comes with age and certain age-related conditions.
NIH has cited that younger people tend to empty the bladder completely upon urination, which helps to keep bacteria from accumulating within the bladder. But elderly men and women experience a weakening of the muscles of the bladder, which leads to more urine being retained in the bladder, poor bladder emptying and incontinence, which can lead to UTIs.
UTIs in the elderly are often mistaken as the early stages of dementia or Alzheimer's, according to NIH, because symptoms include:
• Confusion, or delirium-like state
• Agitation
• Hallucinations
• Other behavioral changes
• Poor motor skills or dizziness
• Falling
We recently had a case where a client presented with increased confusion and had sustained several falls. Diagnosis was delayed because common signs and symptoms such as discomfort on urination and foul smelling urine were not present. After a complete blood work up and vital signs, a urinalysis finally revealed an infection of the urinary tract. A course of antibiotics quickly helped the patient regain her normal mentation and secure mobility.
About Safe Harbor HealthCare Services
Since SafeHarbor's establishment nearly 45 years ago, this fully licensed by the State of New York and accredited by the Joint Commission on Health Care Organization remains family owned and operated by the founding family of Frank Krause.
Caregivers at SafeHarbor are professionally trained, thoroughly screened, bonded and insured and undergo a complete background check, including fingerprinting under the auspices of the New York State Department of Health. SafeHarbor maintains its credentials by hiring highly qualified and professionally supervised personnel with a team approach which emphasizes total case management and excellent customer service as well as by compliance with agency and governmental regulations.
For information about SafeHarbor call: 718-979-6900.
Personal Emergency Response Systems (PERS) have been increasing during the last few years because of the rising age of the elderly. Approximately over 13 million seniors fall every year with over half not able to get up on their own. Due to the rising number of older people in their own homes, these response systems play a major part in saving lives. By demand, Safe Harbor has come up with important information about (PERS) for the elderly and your loved one.
Personal Emergency Response Systems, also known as Medical Emergency Response Systems, let you call for help in an emergency by pushing a single button. A PERS contains three mechanisms: a small radio transmitter, a console connected to your telephone and an emergency response center that monitors calls.
Transmitters are usually light in weight, and are battery powered devices. You can wear one around your neck, on a wrist band, on a belt, or in your pocket. When an emergency has occurred, you just press the transmitters help button, which will send a signal to the console. The console automatically calls one or more emergency telephone numbers. Today most PERS are programmed to telephone an emergency response center. The center will try to figure out the nature of your emergency. They will also review your medical history and check which family member will be notified.
When it comes to buying a PERS, you can purchase, rent or lease a device. Remember, that Medicare, Medicaid, and most insurance companies normally don't pay for the equipment, and few require a doctor's recommendation. Most hospitals and social service agencies might fund the device for low-income users. If you purchase a PERS, expect to pay an installation fee and a monthly monitoring charge. Rentals are accessible through national manufacturers, local distributors, hospitals, and other social service agencies and fees often include the monitoring service.
For a list of systems available in your area, contact your local agency on aging. Once you have found a list of agencies you're considering, check with your local consumer protection agency, state Attorney General, and Better Business Bureau to see if any complaints have been filed against them.
For more information about PERS contact us at 718-979-6900 and we will gladly assist you in answering any questions you have.
Children of elderly parents are being provided with the valuable option of in-home senior care. Deciding how to take care of your aging parent comes with limited choices. You can bring them to a nursing home, move in with you, or hire a home health care service to take care of their everyday needs. Today many people choose the first two options, and frequently choose either or, even though there are common challenges to each.
Many people are not aware of the usual difficulties with putting an elderly loved one in a nursing home. Seniors typically get lonely and it is hard for someone to be relaxed in an odd place where they don't see their family members often.
Moving your elderly parent in your home has its own challenges. If you and your spouse are working, there is usually no time to take care of your loved one and their health. In addition, most people don't specialize in elder care and may not have the ability to correctly care for your senior.
Home care is a developing service today and it has many benefits for your loved one. Safe Harbor Healthcare Services provides benefits from hiring an in home service care agency to take care of your parents everyday needs.
Reduced anxiety and stress
Moving your loved one in a nursing home can put major stress on you, your loved one, and other family members. Quite often their health issues can become more severe and lead to further medical complications. Receiving elder care in your loved one's home can provide them with comfort and a stress free environment. They will also feel the same independence and quality of life they've been used to.
Needs of care is customized to individual
In home care services provides one on one support for your elderly one, unlike huge institutions such as nursing homes and hospitals. Hiring a home care agency assures your elderly loved one will receive personalized care every day.
Saving money
With in-home health care for your parent, you will save thousands by not having to deal with outrageous hospital bills, nursing bills, or even the state taking ownership of their house. At a fraction of the cost, in home care services saves your loved one and the entire family's money in medical bills.
For more information about In-Home Health Care Services, contact Safe Harbor Healthcare Services at 718-979-6900
Recently, the Staten Island Advance released an article about preparing a senior for a caregiver at home. SafeHarbor Homecare would like to pass on this information to help our clients to ease the adjustment process.
When an elderly family member chooses to remain at home rather than live with a relative or in a senior facility, the family should consider hiring a home-care professional. Opening your home to a caregiver could be a scary thing. It is essentially inviting a stranger into your home. In some cases the aids are pleasantly welcomed into the family, but sometimes the elderly view caregivers as intruders, resulting in violence and foul language.
It is not easy to let someone you don't know into your home, but there are a few ways to make the process less stressful:
"Introduce the health aid into the home gradually, in shorter shifts," advises Dr. Eric Rackow, a professor at New York University School of Medicine and CEO of Senior Bridge, an organization that manages at-home care. It may be a struggle in the beginning, but everything should ease with time. A gradual introduction allows a building of a relationship that is appropriate and forms trust between the senior and caregiver.
Rackow also indicates that one should not forget that just because they are the caregivers, remember this is their work, not their entire life. Showing concern for him or her and treating them as your welcomed guest should make it more comfortable for everyone. Rackow expresses that you should "consider showing them where they can comfortably put personal things, and offer to add some foods that she might enjoy to the shopping list — especially if the aide will be working long days or living in."
Although the caregiver is considered a trusted professional, you should always verify their identity and keep track of all possessions in the home. It is important to not leave valuable belongings or personal informational documents lying around.
Establishing a distinct set of ground rules is also important when hiring a home care professional. Although they may spend many hours there or may live in the home, it is still your home. Just because they may live there, they are still your employee.
Lastly, it is important to choose someone who is a trained professional, rather than someone who seems like a good friend. Although a positive relationship is needed, providing safety and care is what the individual is hired to do. Choose the person who will provide your loved one the best possible care all around. It is acceptable to integrate them in some aspect of person life, as in family dinner, but never lose sight of the professional relationship. Keep in mind that the relationship is "friendly, but professional."
At SafeHarbor Homecare, we want our clients to be comfortable with our services. Our goal is to provide the best care and safety possible. These tips can help ease the process and generate a positive experience for you, your loved ones, and the caregiver alike. Contact our offices to learn more about what we have to offer and how we can further help make this transition period easier.
Presenting the idea of assisted living to a loved one is one of life's most difficult events. It is as if the human brain turns off rationality whenever the idea comes to mind that we are unable to care for ourselves or complete some task or another alone. Don't believe it? Just try helping a 3 year old do something that he or she has their mind set on.
"I do it myself!" is the likely answer.
While you may laugh at this example, the 3 year old, in all of us, screams and kicks when it feels as if someone doubts our abilities in one way or anther. This never changes and when you are trying to convince an aging parent or grandparent to have someone come into their home to provide some sort of aid… be prepared for the kicking and screaming.
There are some ways that you can approach the topic without making it sound like you doubt their abilities to take care of themselves or their home. If your loved one is spending far too much time alone, use this as a selling point of in-home care. You do not need to mention that it is for care purposes. , rather mention that you have heard of a friend whose mother/father/sister has someone come in and "sit" with them for a few hours a day. Focus on how the person in your example is happier with someone to talk to.
Many elderly people are afraid of being burdens on their families. You can also use this (in a positive way, never use negative speech!) to help them choose in-home care. If your loved one always talks about how they hate bothering you, bring up how much easier it would be for them to have an aide or nurse stop by a few times a week. If they bristle at this idea, bring up how they always say they feel as if they are "bothering" you and that with an aide or a nurse to take care of those needs, you and your loved one can focus on spending quality time together.
While we are speaking of things that make older people afraid, probably the biggest fear is being forced to leave their home and move into a nursing home. If you know that the person you care for is afraid of this, bring up the fact that with in-home care they can stay home far longer than without. In-home care is also more cost effective than a nursing facility! Not only can your aging parent or grandparent age in place, they can do so without going bankrupt.
When you need to find the right Health Care Provider it's important to know what your options are. Safe Harbor Healthcare Services offers the resources to help you make the right decision. When it comes to finding care, quality and cost matter most. We offer some resources to help families make informed senior care decisions. One of the resources we recommend is CareScout.com
This site can help families find care for a loved one. You can also find proper long term care insurance. It even offers ratings on:
Quality of care
Trends
Resident Profiles
Bed Availability
We recommend you visit the site above or contact us for a consultation.